Jarett Andretti Secures USAC Silver Crown Seat With Window World
Driver and Company to Race for Pavement Championship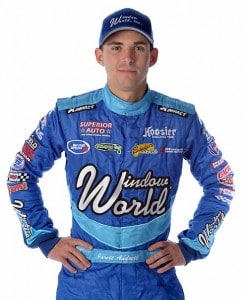 INDIANAPOLIS, IN (May 1, 2013) — Continuing to fill out a busy summer schedule, Andretti Autosport Short Track announced today that third generation driver Jarett Andretti will compete in every pavement United States Auto Club (USAC) Traxxas Silver Crown Series event. The Silver Crown Series is one of the most prestigious in all of open wheel racing and lists Jarett's father John and great uncle Mario Andretti as graduates.
Window World, Inc.®, a long time supporter of both Jarett, and his father, will be the primary sponsor of the No. 4 Window World machine. The car will also carry associate sponsorship from Superior Auto and Stoops Freightliner during the series' five-race pavement schedule. For Andretti, who is already committed to a full dirt sprint car schedule throughout Indiana, the Silver Crown races will add additional experience to his promising racing career.
"I'm extremely grateful for Window World coming on board and giving myself and Andretti Autosport Short Track the opportunity to race the Silver Crown pavement races this year," said Andretti. "The series has so much history and my family has deep roots racing Silver Crown machines as well. Our goal is to gain experience in longer races and also have strong finishes for Window World and all of our supporters."
The deep tradition of the Andretti family in the Silver Crown Series attracted Window World to continue to support Jarett as he climbs up the motorsports ranks.
"Our relationship with John goes back to the Daytona 500 and Indy 500, and more recently the Rolex 24 with Jarett and John," said Tammy Whitworth, CEO of Window World. "Both Window World and Andretti Autosport are family companies, built upon passion, talent and hard work. Jarett has a promising future and Window World is proud to be a part of it."
The Silver Crown car and Andretti's sprint car add experience on Jarett's resume that already includes championships in go-karts and the USAC Eastern Ignite Pavement Series. Last season he competed in supermodifieds capturing the Oswego (N.Y.) Speedway Rookie of the Year honors in that class.
Andretti is currently a sophomore year at North Carolina State University in the honors program.
---
About Window World, Inc.
Window World, Inc.®, headquartered in North Wilkesboro, N.C., is a replacement window company with stores and offices in more than 200 cities nationwide. Founded in 1995 and led by CEO Tammy Whitworth, the company supplies windows, siding and doors to consumers through its network of stores. Window World is an ENERGY STAR® retail partner. Its products have earned the Good Housekeeping Seal of Approval five years in a row. Additionally, through its charitable foundation Window World Cares®, the Window World family provides funding for St. Jude Children's Research Hospital® and was named New Corporate partner of the Year in 2010. Window World, Inc. also supports the Veterans Airlift Command, a non-profit organization that facilitates free air transportation to wounded warriors, veterans and their families. For more information about Window World, visit www.WindowWorld.com or call 1-800 NEXT WINDOW.
---
About Window World Augusta
Window World of Augusta is locally owned and operated in Augusta, GA. The store, located at 4001 Enterprise Court, Martinez, GA, serves homeowners in the counties of Columbia (GA), Richmond (GA), Aiken (SC), Edgefield (SC), Barnwell (SC), Allendale (SC), Bamberg (SC), Saluda (SC), McCormick (SC), McDuffee (GA), Lincoln (GA), Taliaferro (GA), Wilkes (GA), Warren (GA) and Glascock (GA). For more information about Window World of CSRA, visit www.windowworldcsra.com or call (706) 210-2525.
---
About Window World Powersports™
Window World Powersports™ is the line of automotive and motor vehicles developed and maintained by Window World, Inc.® The collection was initiated in 2009 and has now grown to seven vehicles: the No. 43 Indy Cup Car, the No. 34 Window World Cares Cup Car, the Superbird, the Window World Chopper, the St. Jude Dream Bike, the Veterans Airlift Command Bike and the Stinger. The Stinger, developed by John Andretti, Andretti Autosport and Window World, is a tribute to the 1911 Marmon Wasp, the first winning Indy 500 car. The traveling vehicle showcases the signatures of former Indy 500 starters. For each signature received, Window World makes a donation to Window World Cares®, the charitable foundation of Window World. For more information on the Stinger or other Powersports vehicles, visit www.WindowWorldRacing.com.